What Is Credential Stuffing and How Can It Impact You?
Credential stuffing is a dangerous hacking tactic that takes advantage of stolen account credentials and rapidly growing automation to systematically commit cybercrimes. Recent news reports warn us of the danger of these attacks, but heightened awareness and some informed best practices can lessen their impact. What is credential stuffing, and what tools are available to prevent and detect credential stuffing attacks?
What is credential stuffing?
Credential stuffing is a common hacking tactic that uses large sets of stolen usernames and passwords paired with automated software tools to gain unauthorized account access. Hackers methodically input combinations hoping to obtain a match with one or more user accounts, and reused passwords multiply their odds of success. If you've ever forgotten your password and then tried plugging in other credentials hoping to guess correctly, then you understand the basic credential stuffing definition. 
How credential stuffing works
What is a credential stuffing attack? Credential stuffing is carried out based on a highly organized and consistent set of actions that can eventually lead to a data breach, corporate espionage, or identity theft. 
It starts with stolen passwords: Despite the stereotype of the lone hacker, a credential stuffing attack is not typically carried out by the same person or group who originally stole the usernames and passwords. Instead, an underground industry has evolved for the sale and purchase of credentials on the dark web. The market value of these stolen credentials varies, with online retail and financial accounts considered quite valuable.
Bots are used to enter credentials: The term bot is used to describe an automated software application used to perform repetitive tasks. During a credential stuffing attack, these tools can input millions of credential combinations in a short period of time. A botnet takes this approach a step further when malicious bots on multiple network-connected devices work together.
Accounts are taken over and exploited: Less than 4% of credential stuffing attacks are successful, but this has not deterred cybercriminals. When they do find a match, damage can be inflicted in multiple ways, including unauthorized financial transactions and identity theft. For businesses, a credential compromise might lead to regulatory violations, including the California Consumer Privacy Act (CCPA) and the General Data Protection Regulation (GDPR), if customer data is included in the breach.
The credential stuffing domino effect
When a cybercriminal finds a match between stolen credentials and user accounts, they don't stop there. Hackers are well aware that over 50% of passwords are reused. When stolen credentials can be used to unlock many accounts, it creates a domino effect that heightens the size and severity of a single data breach.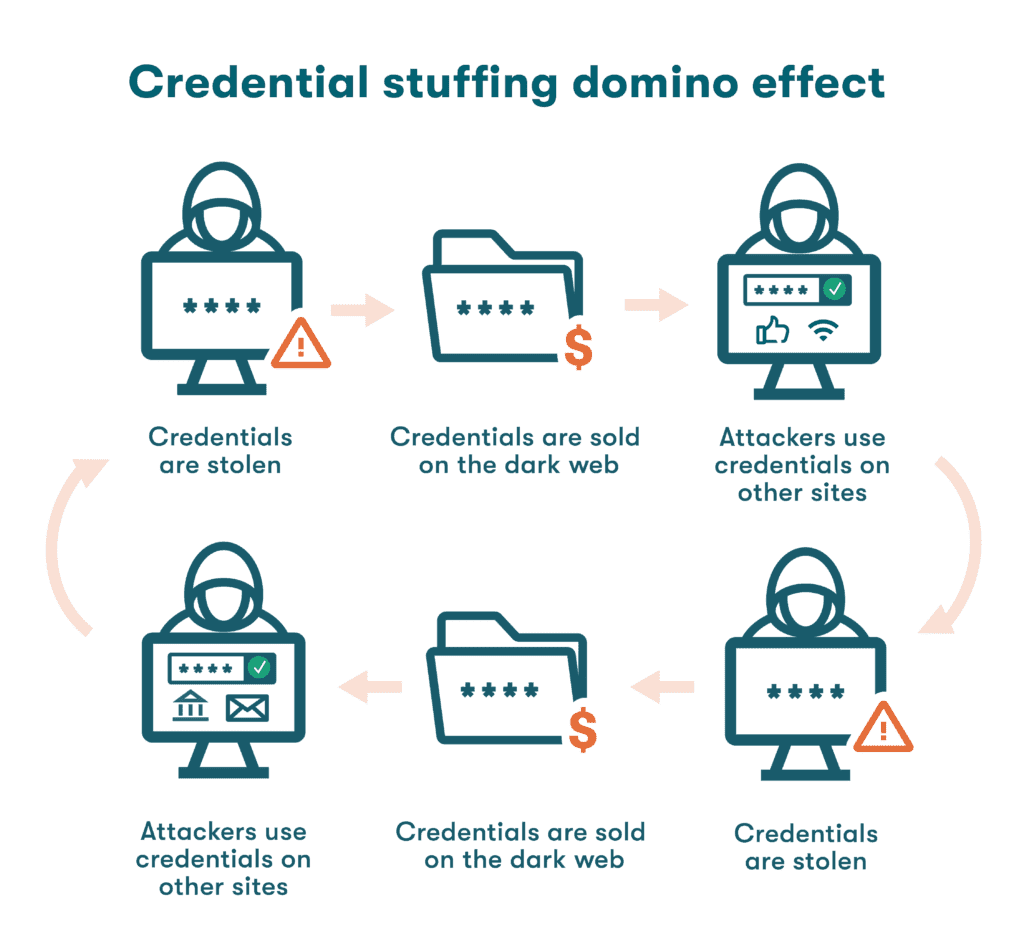 Examples of recent credential stuffing attacks
Recent news provides many examples of credential stuffing attacks impacting well-known companies. These attacks are evidence of credential stuffing tools capable of evading many conventional cybersecurity practices:
It's easy to begin enjoying Dashlane's best-in-class user experience, security features, and customer support, even if you're already using another password manager. Our simple step-by-step instructions explain how to switch your password manager to Dashlane today.
How to detect credential stuffing attacks
Credential stuffing has some telltale signs that can be detected early when you're armed with advanced monitoring tools. Signals to keep an eye out for include:    
Repeated login attempts. One way to prevent credential stuffing is by monitoring traffic for unusual login patterns. Automated attacks might be given away by an unusually high number of login attempts from multiple geographic locations or other behavior patterns associated with machine learning algorithms.
High login failure rates. Repetition and persistence are the keys to credential stuffing. Limiting the number of unsuccessful login attempts is a good way to separate human error and forgetfulness from malicious intent. NIST standards recommend lockout policies to limit the number of unsuccessful credential guesses.
Malicious IP addresses. Another important clue left behind during credential stuffing attacks is the Internet Protocol (IP) addresses from which the hacks originated. Blacklisting practices can be used to block suspicious IP addresses known to be involved in previous breach attempts. Even when IP addresses are continually cycled to elude detection, improved threat intelligence allows cybersecurity teams to adapt to these changes quickly.
Dark web monitoring. In some instances, stolen passwords and personal information identified through dark web monitoring might be found a little too late. However, since passwords are often exchanged on the dark web before they're used for credential stuffing, monitoring the dark web to determine your exposure level is an important part of credential stuffing prevention.
How to prevent credential stuffing attacks
Credential stuffing and password security are closely linked, so the tools and practices you use to improve your password hygiene are essential, along with a few other best practices.     
Credential stuffing vs. other cyberattacks
Cybercriminals remain steadfast in their dedication to credential stuffing, despite the relatively low success rate. What separates credential stuffing from other cyberattack methods including phishing, zero-day attacks, ransomware, and man-in-the middle attacks is the undeniable connection between password security and an unsuccessful hack.
Dashlane uses advanced algorithms and encryption to generate, store, and autofill passwords safely. 2-factor authentication (2FA), Dark Web Monitoring, and a Password Health score to track your weak, reused, and compromised passwords provide additional layers of protection.

---
References
Sign up to receive news and updates about Dashlane
Thanks! You're subscribed. Be on the lookout for updates straight to your inbox.