2022 Holiday Shopping Cybersecurity Tips to Keep Yourself Safe
With online shopping accounting for over 25% of seasonal retail sales, paying close attention to your holiday shopping cybersecurity is a great way to keep the season joyful.
Cybersecurity concerns for holiday shoppers in 2022
Online holiday shopping issues make gifting feel a little less cheerful, and sugar cookies taste a little less sweet. Prepare yourself for a safe holiday by getting a good grasp on common online scams, frauds, and hacks that are sure to be re-gifted in 2022. 
Phishing: You can spot fake emails pretending to be from reputable companies by remembering one basic fact: Reputable companies will never ask you for information like account passwords or credit card numbers in an email. Lack of personalization, misspellings, and poor grammar are other telltale signs of a phishing scam. Always err on the side of caution by deleting any questionable emails or text messages and reporting them as spam if possible.
Scams: Holiday scams have moved from brick-and-mortar shopping into the digital world, preying on the hectic pace of the season. Here are some common scams to watch out for:
Hacks: The holiday season can be a bountiful time for hackers, with e-commerce multiplying opportunities for password and personal information theft. Public, unsecured WiFi in malls, airports, and hotels can be convenient for last-minute orders on the go but not as great for browsing. A VPN to encrypt traffic coming in or out of your device can protect you from hackers who rely on these public settings to intercept data.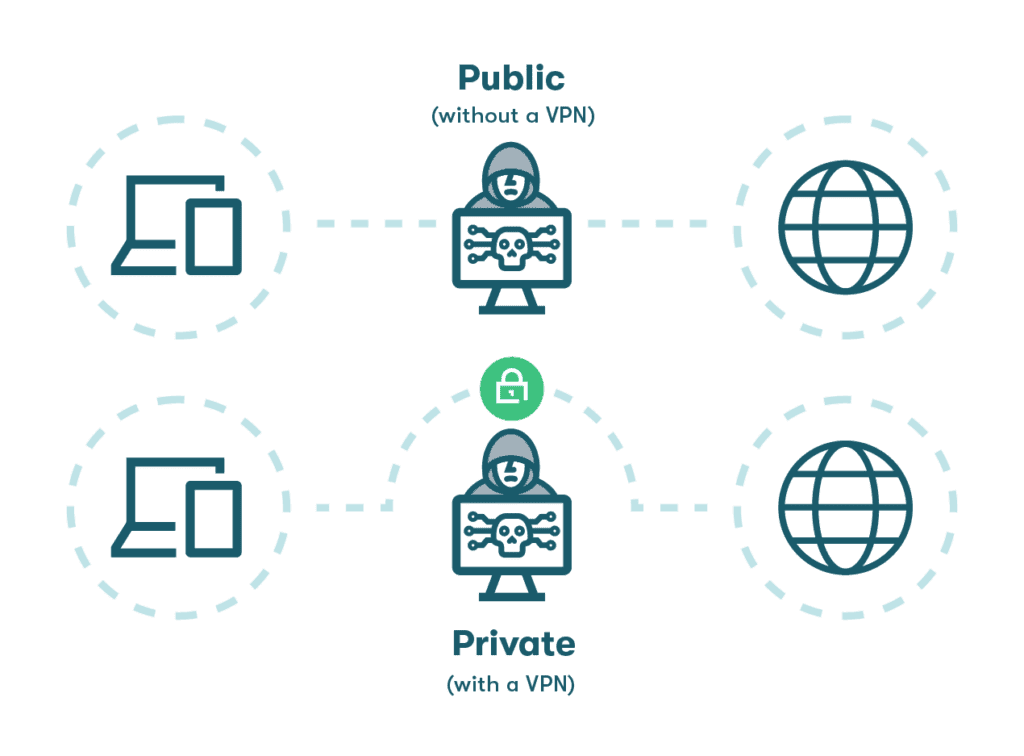 Data breaches: Some forms of cybercrime lead to widespread leaks of Personally Identifiable Information (PII), affecting thousands or even millions of people. Once an online retailer or financial institution you've done business with has been breached, it's safe to assume your information may have been compromised or shared.
Traveling during the holidays? Practice these five cybersecurity tips for travelers.
7 tips for staying safe during your holiday online shopping
Hectic work, shopping, and travel schedules make online shopping a must for the holidays. Our top holiday cybersecurity tips and Cyber Monday security tips lead to worry-free online shopping.
Create strong, unique passwords for each account
Frantic bargain hunting on the internet can quickly erode our password hygiene, and reusing passwords is one of the riskiest habits of all. Why? Because your password is almost always the first point of entry for a hacker. When you use the same password for several accounts, they can all be compromised. You should also avoid common words (including your first name) in your password and scramble letters, numbers, and special characters to protect yourself from brute force tactics.  
Avoid saving your passwords and credit cards to your browser or on retailer's websites
Internet browsers come with built-in password managers that store and autofill passwords and credit card numbers. They may be convenient, but because browser password managers don't always use encryption, they're vulnerable to malware and hacks and should be avoided. You should also protect your credit card online by erasing saved browser passwords you've stored in the past. A safe alternative is saving your credit card information in an encrypted digital wallet like Dashlane's. 
Stand-alone password managers with on-demand 2-factor authentication and bullet-proof AES-256 encryption keep your information secure as you browse your favorite shopping accounts. Dashlane Password Manager uses advanced algorithms to create and store complex, random passwords on external servers so they're never exposed to external threats. User-friendly Autofill and single sign-on (SSO) features get you through the checkout line quickly and securely. 
Some holiday shopping safety tips rely on software and technology, while others are rooted in street smarts. Black Friday and Cyber Monday are touted as the can't-miss shopping days of the season. When it comes to pop-up ads and unfamiliar email messages, if a deal is too good to be true, it probably is. These suspicious ads could lead you to spoofed landing pages or even malware links. Follow your best instincts and avoid them.
Avoid phony or unfamiliar retailers
You wouldn't buy your family's holiday gifts from the trunk of a car in a dark alley, and online shopping should be no different. Along with phony ads, scammers often create fake retail websites just to steal bank account information or credit card numbers from unsuspecting customers. Do your holiday shopping safely by staying on secure sites from retailers you trust. 
Beware of skimming devices
Malicious card readers hidden in ATMs, at gas stations, and at other locations copy your card information and allow cybercriminals to access your accounts. Look for anything unusual on or near the card slider and always cover the keypad to prevent hidden cameras from stealing your PIN. E-skimming takes this concept online by embedding malicious code into websites to "skim" payment information from unsuspecting consumers. This is another reason to stick with familiar and reputable online retailers with robust cybersecurity resources.
No matter how careful you are, there's still a chance someone will gain access to one of your credit card numbers or even open a new account in your name. Keeping track of changes to your credit score and behavior regularly and ensuring that you're notified right away whenever a new account is opened in your name are wise practices. Dark web monitoring adds additional security by continually scanning the web for personal information like email addresses and passwords.
The basics of cybersecurity
Keeping our personal financial information secure isn't someone else's job. We all need to be aware of cybersecurity basics to keep us protected during the holiday season and throughout the year.
Strong passwords: Unique, hard-to-guess passwords are the first and best line of defense for personal cybersecurity. Password managers securely and easily create, store, and recall these for you.
2-factor authentication: 2-factor authentication (2FA) means using a second login, like a code sent to an app, to verify you are who you say you are.
Dark web monitoring: Stolen personal information might end up on the dark web before you even realize that bad actors took it. Dashlane's 24/7 Dark Web Monitoring tool scans more than 20 billion records and quickly alerts you when your information is detected.
Secure WiFi: A virtual private network (VPN) creates a safe, encrypted "tunnel" between a device and a secure network to mask the IP address and make any public WiFi service more secure.
Dashlane makes online shopping secure
To stay safe this holiday season, you need solutions that support fast, convenient, and worry-free online transactions at home and on the go. Strong, encrypted passwords, a digital wallet, 2-factor authentication, a secure VPN, and Dark Web Monitoring are holiday shopping cybersecurity essentials, and Dashlane provides them all. Log in to your trusted shopping sites instantly with Autofill and check out faster with your shipping and billing info stored securely in your Dashlane app.
---
References
Sign up to receive news and updates about Dashlane
Thanks! You're subscribed. Be on the lookout for updates straight to your inbox.