Dashlane Versus 1Password, LastPass, Keeper, Bitwarden, Zoho Vault, and RoboForm
Password managers have some similar features, but they don't all work the same way. When you evaluate your options, it's a good idea to look not only at functionality but also at other aspects, such as vendor support.
To see how popular solutions on the market stack up, we evaluated the seven most common business password managers on their ease of adoption and real-world security. Each criterion was scored on a scale of 1–5. We then averaged the scores against each axis to establish our grid.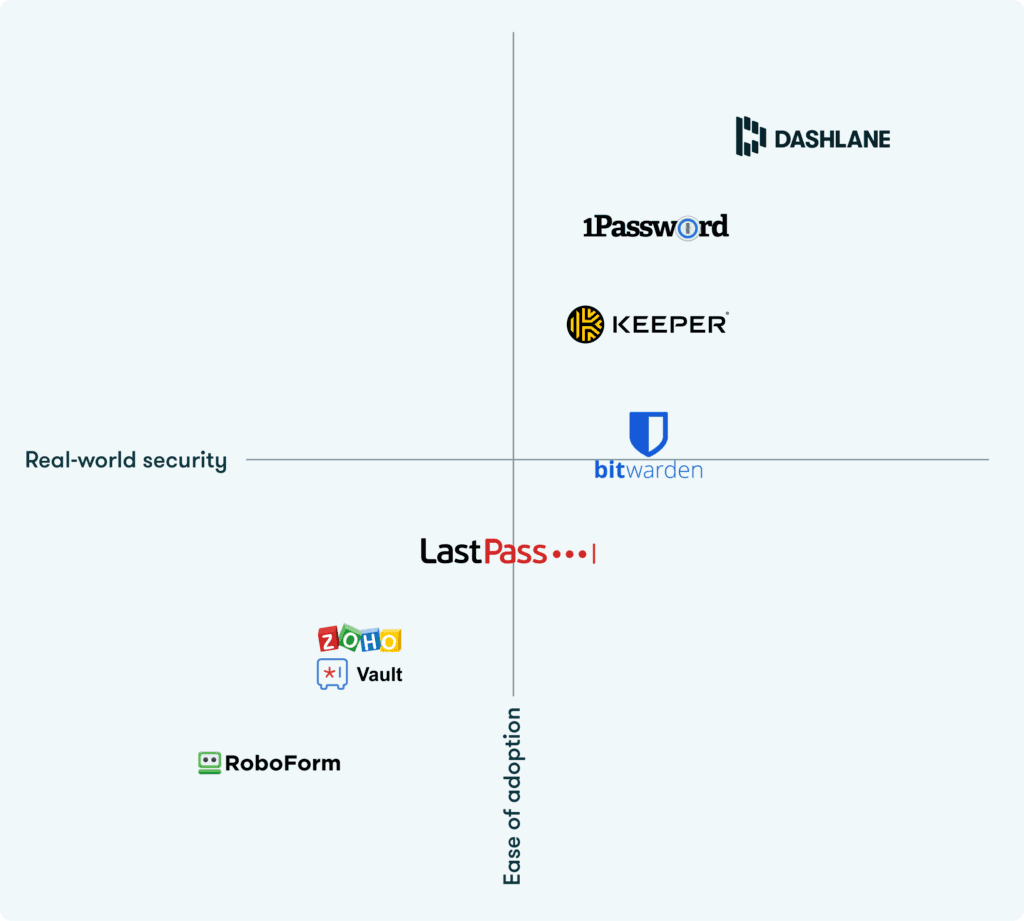 1PASSWORD
Ease of adoption
Integrations
Support
Import
No SSO
Complicated business-personal separation
Real-world security
Robust reporting
Authentication abilities
Password monitoring
---
LASTPASS
Ease of adoption
Enterprise features
SSO and MFA
Real-world security
Robust reporting
Free Families accounts
Password monitoring
Blemished security record
---
KEEPER
Ease of adoption
Simple setup
Policy controls
Employee-friendly features
Costly add-ons
Limited support
Real-world security
Free Families accounts
Password monitoring
---
BITWARDEN
Ease of adoption
Extensive support
Employee-friendly features
Difficult for beginners
Limited account recovery
Real-world security
Open source
Secure file sharing
2FA and authentication abilities
Password monitoring
---
ZOHO VAULT
Ease of adoption
SSO
Employee-friendly features
No account recovery
No mass deployment
Limited admin capabilities
Real-world security
Lack of zero knowledge for SSO integration
---
ROBOFORM
Ease of adoption
Employee-friendly features
Costly onboarding support
Real-world security
---
DASHLANE
Ease of adoption
Simple for admins
Deploying Dashlane to your entire company and integrating it with your existing set of IT tools is simple with functionality such as:
The ability to integrate with any SAML 2.0 single sign-on provider, such as Okta, Active Directory, Azure AD, G Suite, and Duo
The ability to sync individuals and groups with your company directory so you never have to manually manage groups or grant and revoke employee licenses
Group password sharing so new hires can start their first day with access to everything they need
Account Recovery, so employees who forget their Master Password don't end up permanently locked out of their accounts
Perks for employees
After adopting Dashlane, employees get Smart Spaces functionality that keeps business and personal items separate. Team and Business plan users also get access to a VPN for work or personal devices, and Business plan users get a free Friends & Family plan, so they can give up to nine others free Dashlane Premium accounts. 
Robust support
For help with adoption, Dashlane offers extensive live and on-demand resources, including free live product information sessions for employees and admins, a Resource Library, and a Help Center for both employees and admins.
Additionally, all Dashlane customers have access to 24/7 email support and live chat support, and Business plan users have access to phone support every weekday. Businesses with more than 50 seats on their plan can access technical onboarding support and a dedicated customer success representative. 
Real-world security
Comprehensive insights
Dashlane has patented security architecture, and the Admin Console provides actionable insights and useful company-level controls. Admins can view their company's Password Health score and at-risk passwords from their dashboard view, and they can gather granular, employee-level insights from their Activity Log and Users tabs. Admins can also set policies around 2FA, employee offboarding, Smart Spaces, autofill, Account Recovery, and more. 
Dark web monitoring
Dashlane's Dark Web Monitoring tool monitors the dark web for up to five email addresses and sends notifications if those email addresses are associated with any known data breach. Unlike other Dark Web Monitoring tools offered, Dashlane searches for email addresses, not hashed passwords already stored in a user's vault.
---
The first step to selecting the right password manager is understanding what criteria to use for evaluating your options. The best solution should offer more than the ability to manage passwords securely—it should offer a robust set of features that can help you improve your overall company security.
Sign up to receive news and updates about Dashlane
Thanks! You're subscribed. Be on the lookout for updates straight to your inbox.