How To Wipe Your Work Computer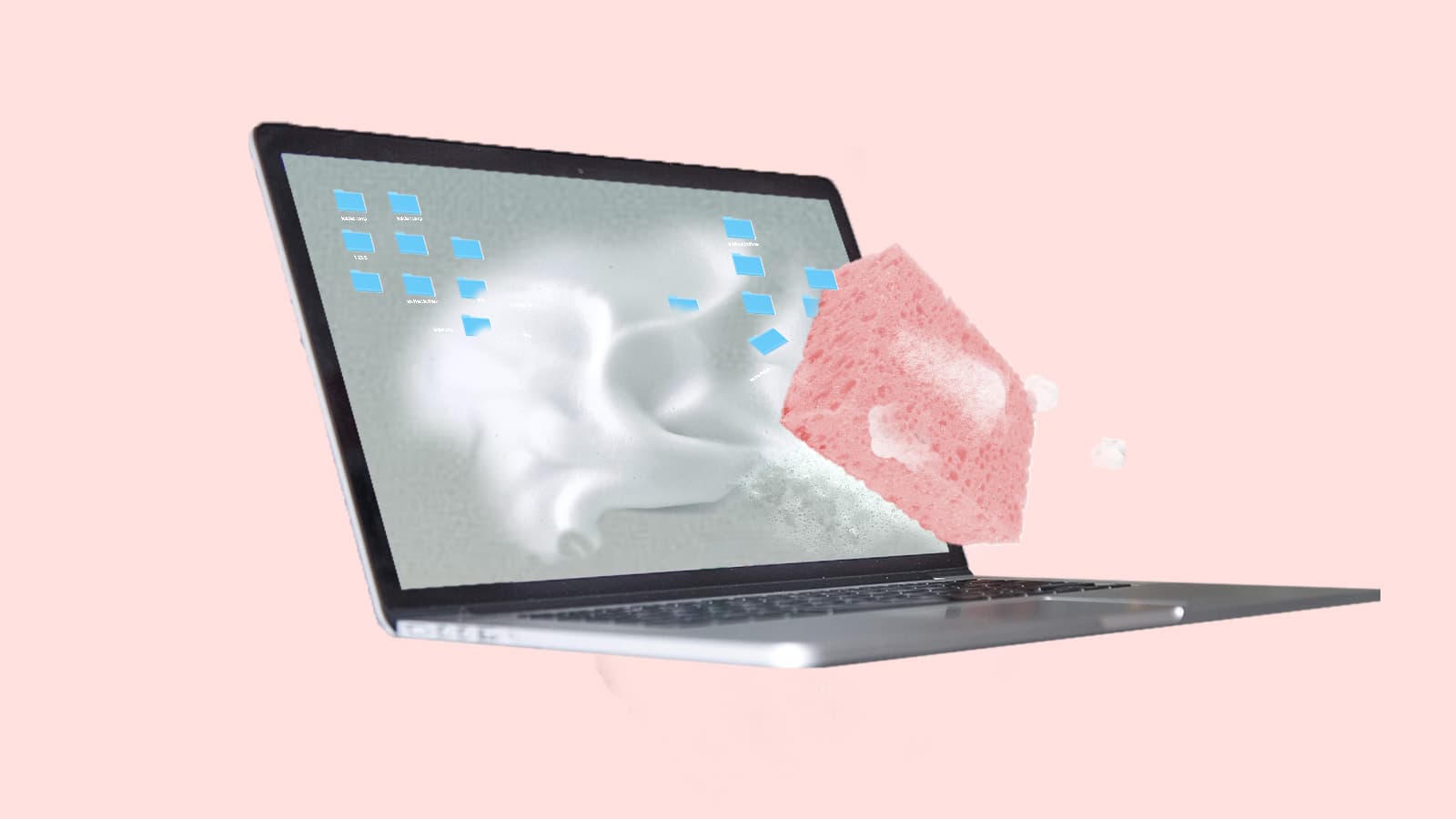 Here's how to ensure your device is clear of personal data before giving it back to your company.
Try as I might to keep my personal and work life separate, the two overlap, specifically when it comes to my work computer. Throughout the day, not only do I have the impulse to browse non-work-related sites if only for a moment's diversion, I'm also guilty of entering personal information to pay a bill or access my email. This is less of a concern if you work at a business that uses Dashlane, since the app easily lets you separate your personal and business accounts. But if your company has yet to adopt a password manager, it can be tough to ensure your sensitive information stays off your work computer.
If you have personal data, search history, or files stored on a device, here are the ways to ensure your computer is squeaky clean before returning it to your IT department.
Why it's important to wipe your computer clean
Even if you have nothing to hide, it's still a good idea to make sure that all of your info and potentially sensitive documents are protected. Many companies will wipe a computer before it's given to the next employee, but at some companies that may not be standard. Play it safe and follow these steps.
Back it up
Use a flash drive or an external hard drive to save anything of value to you. Make sure you're saving your work, and not something that belongs to the company, like sensitive internal documents.
Choose a harddrive: WD (Western Digital) makes a very small, portable external hard drive for Macs for around $110. I've had one with 20 GB of storage for at least the past 6 or so years, and it continues to work great.
Backing up a Mac
Connect your hard drive. Note: You may be prompted to format the disk. Choose the format most compatible with your device. Apple goes into detail about each format on their website.
Open the Time Machine app (which is already built into your computer) in System Preferences.
Select 'Choose Your Disk' and choose the disk you want to back up.
Select 'Use as a Backup Disk.'
If you choose to encrypt your backup (there's a box you can check) you'll have to create a password.
Time Machine will do the rest!
Backing up a PC
To back up a PC, specifically for Windows 8 or later, you will use the built-in File History application.
Connect your external hard drive (see above) and choose 'Backup' within the Update & Security menu.
Add your external hard drive so that you can back up your files there.
You can toggle on 'Automatically Back Up My Files,' so that your computer will be backed up whenever you connect your hard drive.
Under 'Backup Options,' you can choose which folders to back up or exclude. You can also specify how long the hard drive stores the files you've backed up.
Should I back up my info elsewhere?
Experts recommend both cloud-based backups and physical backups to ensure your information is accessible in case your external hard drive breaks, but this only makes sense if you are storing information in a place that you'll have access to after you leave your job.
Microsoft has its own cloud-based backup software for Windows, called Azure.
For Macs, you can store files in the cloud by connecting your computer to your iCloud account with your AppleID, but this creates another instance of entering your personal data into your work computer.
You can also add files to your personal Google Drive, and make sure you then securely sign out of your account.
With Dashlane, only you can access your accounts. Log in via the browser extension while on your work computer and all your passwords are at your fingertips. Simply log out to ensure no one has access to any of your safely encrypted passwords.
Wipe the slate clean
If you have administrative permissions on your laptop and you've already backed up your personal files to your own portable hard drive, the next step is wiping clean your entire computer, so that aside from the Cheeto dust that's collected on your keyboard, it's like-new. Because data recovery software exists, the only way to permanently delete files is to wipe your startup disk clean. Note that these processes can be lengthy, so plug your device into a power source before you begin.
If you don't have administrative access, skip ahead to the next section.
On a Mac
Wiping a Mac clean is done through MacOS Recovery, and it is fairly simple.
As soon as you turn on your computer, hit Command (⌘)-R, which will open the MacOS Utilities menu.
From here, select 'Disk Utility.'
Choose 'View' and 'Show All Devices' in the menu. You'll see your startup disk, which has all of the computer's files, at the top.
In the 'Name' field, enter a new name for the disk for after you've erased it.
The 'Format' field will automatically be filled in with a compatible format, such as APFS.
Under 'Scheme,' select "GUID Partition Map" from the dropdown menu.
Click 'Erase' to erase the disk and all of its contents.
Quit Disk Utility when finished.
On a PC
Wiping a PC clean is trickier when compared to a Mac. Wired recommends using DBAN, but you can also download free software like KillDisk.
For DBAN:
First, you will need to download DBAN software from their website.
You'll then need to burn the software to a CD, DVD, or USB drive. Of course, a USB drive sounds like the best option in 2020, but it requires downloading USB to ISO conversion software (DBAN is an .iso file). Microsoft has their own official tool for converting the software, though there are other options.
Once you've converted DBAN software, you will have created a "boot disk." You'll then need to rearrange the Boot Device order.
Hit Esc+F1 to open a menu from where you can select BIOS (Basic Input Output System) setup.
Once this appears, use the arrow keys to get to the BOOT tab.
You can rearrange devices from here. Move the hard drive device to the top of the list, expand it, and move your USB drive (now your boot disk) to the top of that list.
Save and exit, and your device will restart.
To wipe the computer, hit 'Enter' when the boot screen loads, then 'M' for 'method.' Best Buy recommends choosing "DOD 5220.22-M" as your method.
Select the disk you want to wipe (your startup disk), then hit F10.
If you don't have administrative access
If you want to wipe your computer clean before handing it to the IT department, but you can't do a thorough scrubbing like the methods mentioned above, take these steps:
Delete saved passwords from your browser. Each browser should have its own method. For Chrome, click on your profile in the top right, then click the "key" symbol to access passwords. You can remove saved passwords manually for each individual website.
Log out of any synced accounts that store your password, like Google or Apple iCloud Keychain.
Deactivate your Slack account. This won't delete your messages or files you shared, but most messages are deleted after a certain amount of time regardless, depending on the settings chosen by the admin. You can also request that your profile information be deleted by the workspace owner or admin.
Clear your cache, browsing history, bookmarks, and cookies from ALL web browsers.
Permanently delete files. As we said above, data encryption software makes it possible to recover files from a disk that wasn't completely reformatted. For this reason you'll want to make sure you're actually deleting your files if you don't have admin access.
On a Mac
If you're somewhat more tech-savvy, you can use Mac's Terminal (within Utilities), where you can manually delete files for good by typing the file's path into the Terminal window. Or, if your permissions allow it, you can download third-party software like File Shredder. This works for HDD drives. On newer Macs, which usually use SSD drives, you will need to make sure your files are encrypted (be sure FileVault is switched ON in System Preferences). So, no one will be able to access your files without your password (another case for having a strong password).
On a PC
Use a third-party tool like Eraser for Windows to securely delete your files.
Sign up to receive news and updates about Dashlane
Thanks! You're subscribed. Be on the lookout for updates straight to your inbox.