Get Started With Company-Wide Site Licenses
Dashlane's Site License Program gives all your employees access to enterprise-level security and the simplest UX in the industry. It simplifies seat management for IT admins and eliminates the need to purchase additional licenses as your company grows. 
With predefined packages for organizations of any size, you can protect every employee for a single, flat fee and save.
Dashlane is dedicated to simplifying online security. When you sign up for the company-wide Site License Program, you can access an all-in-one Admin Console as an admin on a Dashlane Team or Business plan. The Admin Onboarding Guide will help support setting up your company's Dashlane account and getting started.
When you subscribe to Dashlane's company-wide Site License Program, you can also access our dedicated training and onboarding specialists. They'll work closely with your team to provide personalized guidance and support, ensuring a seamless transition to Dashlane. Contact us to learn more about the program.
Admin get started checklist
We recently introduced a new Get started product experience specifically created to help you navigate our Admin Console during your initial days using Dashlane so you can successfully deploy the tool to all employees.
Get started with onboarding
Go to dashlane.com or install the Dashlane extension, and log in with your admin Master Password. 

Complete the steps for Get started, where you see Welcome to your Admin Console.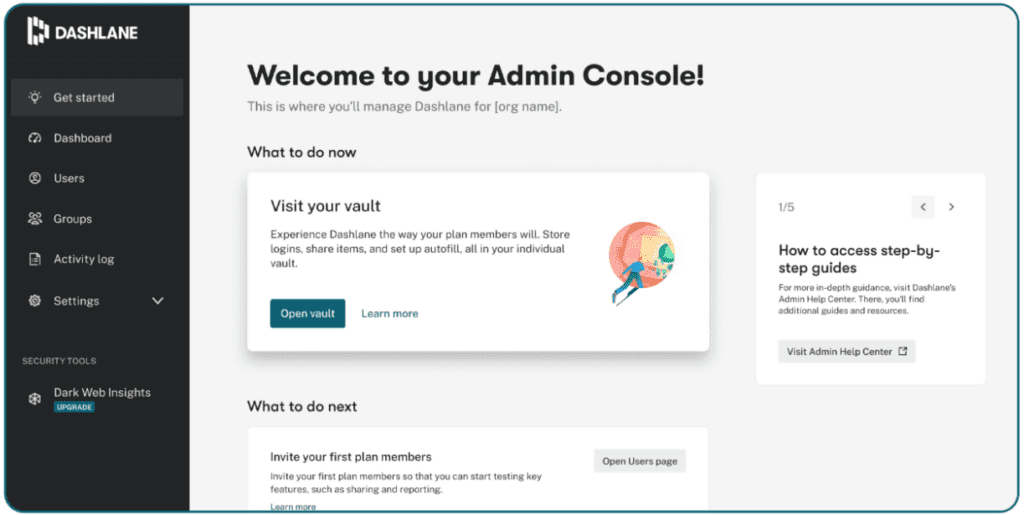 The Get started setup includes the following:
Inviting your pilot group of first plan members.
Assigning another admin. Add at least one more admin to your plan.
Creating a sharing group. Securely share logins and Secure Notes with plan members.
Sharing your first items. Head to your vault to share logins and Secure Notes.
Get started with deployment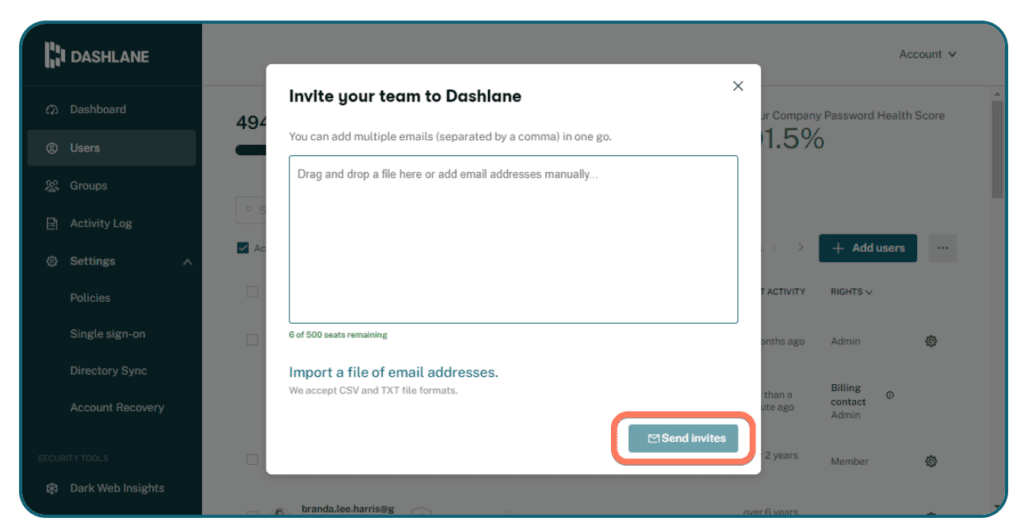 Deployment includes the following:
Configuring SCIM/Directory Sync.
Configuring single sign-on (SSO).
Configuring extension deployment.
Enabling admin-assisted account recovery for all plan members.
Updating the company password policy.
Sending a Dashlane announcement email and welcome material to the pilot group.
Checking your organization's Password Health score. Improve your organization's security and monitor usage on the Admin Console dashboard.
We aim to empower your organization with Dashlane and are committed to helping you with onboarding, deployment, and beyond. If you encounter any difficulties, don't hesitate to contact our Customer Support team. We will gladly assist you in finding solutions and maximizing the value of Dashlane for your team.
Contact us to learn more about the Dashlane Site License Program.
Sign up to receive news and updates about Dashlane
Thanks! You're subscribed. Be on the lookout for updates straight to your inbox.