Easier Onboarding and Other Updates for You and Your Business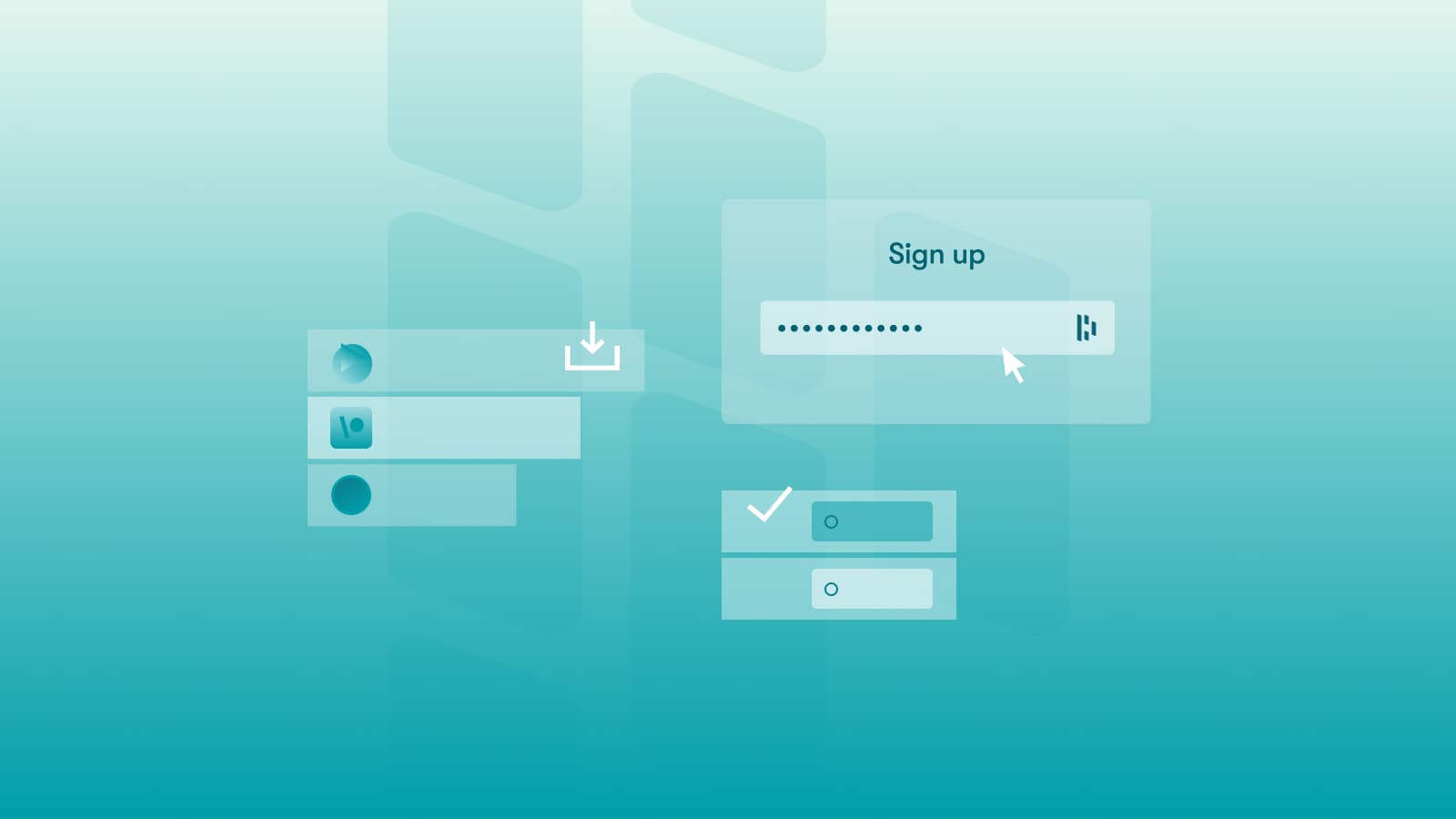 At Dashlane, our goal is to make security simple and make password management as seamless as possible. Dashlane users often reach out to us on Reddit, Twitter, and through our Help Center with questions and to let us know what features might make their online lives easier, and we're always eager to implement this feedback. 
Our 3 latest product updates, including an onboarding invite link, categories for organization, and a streamlined way to import data, come highly requested, and we're excited to show them off. Read on to learn what's new for both businesses and personal Dashlane users.
Personalize how employees are invited to onboard
When a business rolls out Dashlane, one of the first steps to onboarding is educating employees on how to get started with their new tool. Before, IT admins had to rely on employees seeing the standard Dashlane invite email, which could sometimes get caught in their spam folder or deleted because it looked unfamiliar. The employee would then have to take the initiative to follow the instructions, and IT admins found themselves having to remind and resend the invite email.  
Now, admins have more control over when, where, and how they invite people to start using Dashlane. This personalized deployment strategy makes it easier for admins to reach employees in familiar ways, at opportune times, on any platform, and in any language their team communicates in. When admins are ready to invite employees to Dashlane, they can generate a custom invite link in the Dashlane Admin Console and share it through their preferred channel, such as Microsoft Teams, Slack, or within a personalized email to their team. The link leads to a personalized landing page for their organization where employees are easily informed on how to sign up for Dashlane.
Every IT admin deploys Dashlane a bit differently. Some organizations rely heavily on email, while others use Microsoft Teams, Slack, and Zoom chats during their training sessions to share important information. With an onboarding invite link, IT admins can present information to their people at the right time and using the channels they're most comfortable with. The message can be branded with your company logo and style, and people are more likely to see it since it's on a channel they're already tuned in to. The link can also be included in training materials and new-hire documentation so no one misses out.
An onboarding invite link also makes the sign-in process easier and smoother for employees. They'll feel comfortable receiving the information from a trusted colleague and know exactly who to reach out to if they have questions about getting started. 
Organize your vault with categories
Our newly updated custom categories feature gives users on all personal and business plans more control over how they organize their vault. Anyone can now create custom categories for vault items, and each item can be associated with multiple categories. 
For example: 
In a Business Space, your organization's Twitter and Instagram credentials can be tagged in both a "Social Media" category and a "Marketing" category.
In your Personal Space, Netflix and Hulu logins can be tagged in a "Streaming" category, and Amazon logins can be tagged under both "Streaming" and "Shopping."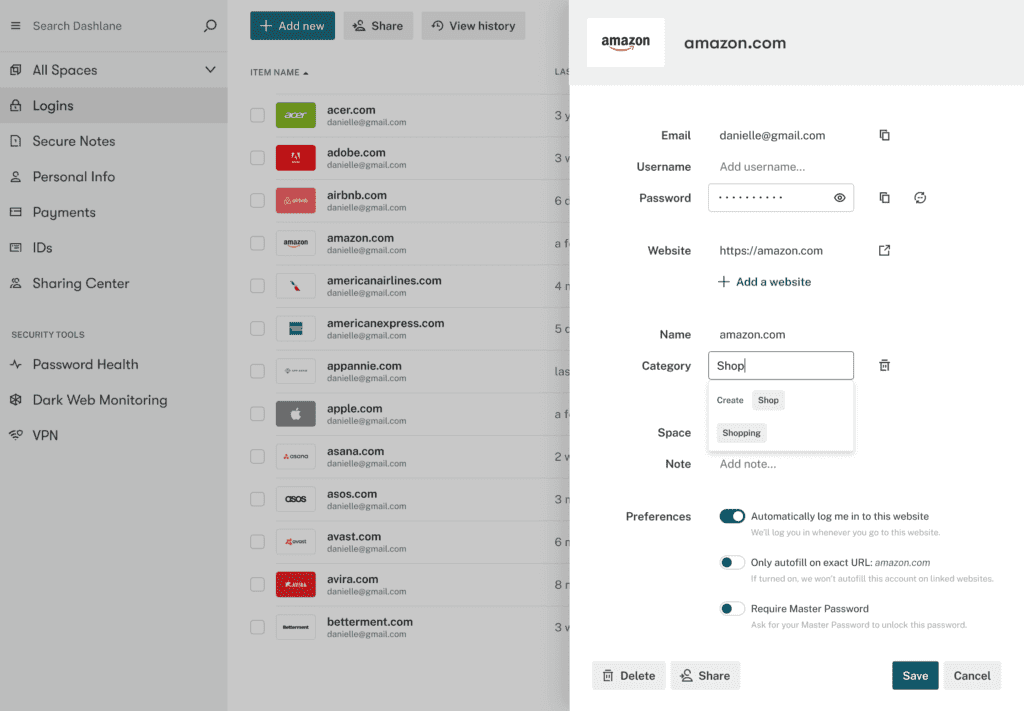 Password organization has never been better. With our newly updated categories feature, you can quickly search and customize your vault just the way you like it.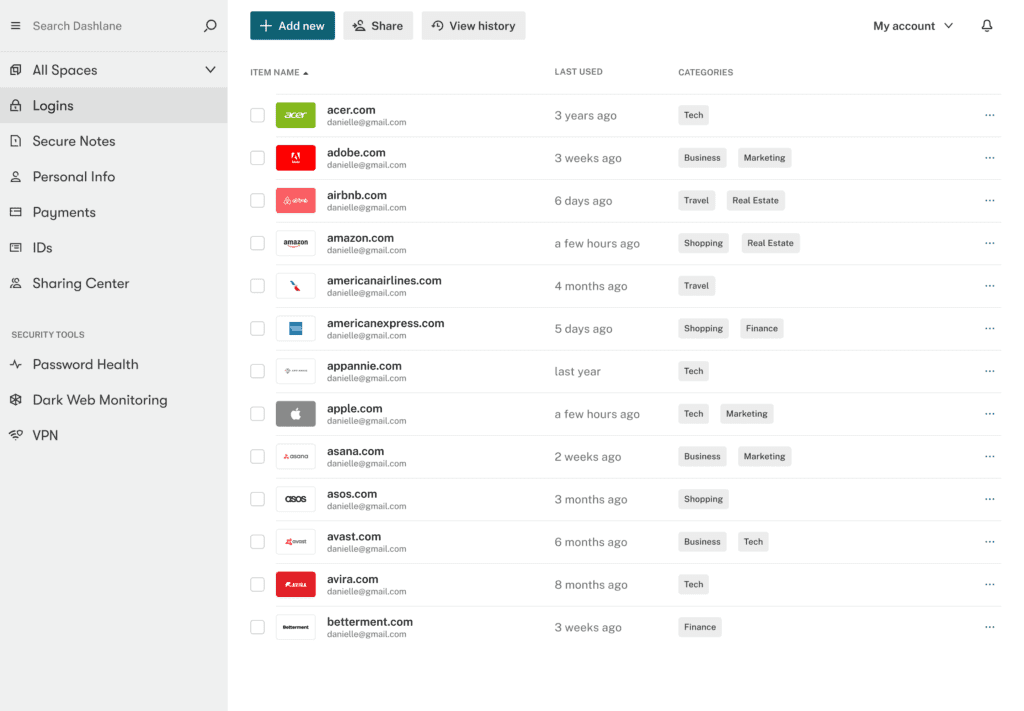 Easily import data into Dashlane
There's never been a better time to switch to Dashlane. Our updated CSV file import capabilities make it easy to import your logins, Secure Notes, and other data from a different password manager or a browser—all in just a few easy steps. You can choose which data fields you want to import and dictate how and where the data should appear, and you don't have to worry about data loss or duplicates.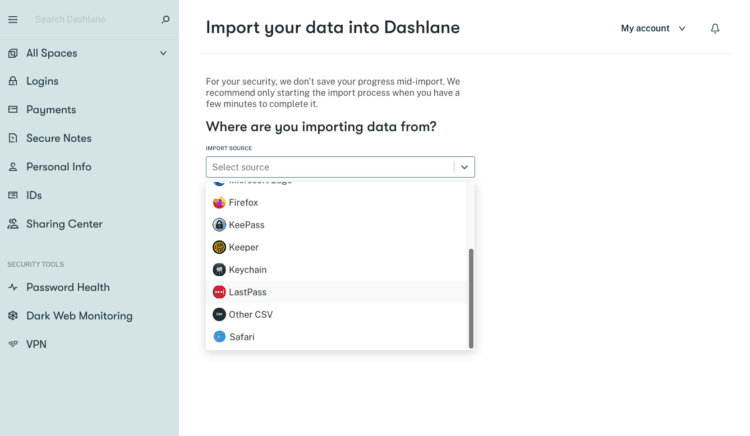 This new streamlined import process makes it easy for admins and individuals alike to import passwords and information into Dashlane. And the additional control over how your data is imported means you won't have too much cleanup to do after the fact—you can just import what you need and be ready to go.
Always listening, always improving
These 3 product updates are features that our admins and users have been asking for, and we're so excited to be able to share them. With more power to customize invites, organization, and imports, you can fine-tune Dashlane to best fit your personal and business needs. 
Looking for additional help using these or other features for yourself or your organization? Our Help Center and Admin Help Center have the info you need.
Sign up to receive news and updates about Dashlane
Thanks! You're subscribed. Be on the lookout for updates straight to your inbox.